Where is the Statue of Liberty Located?
The Statue of Liberty is one of the most popular tourist attractions in the United States, receiving millions of visitors every year. Lady Liberty is not only a symbol of freedom as its name implies, but also one of friendship-the statue itself was a gift from France as a token of camaraderie between the two nations. Standing just a hair over 305 feet tall and weighing about 225 tons, you wouldn't think it would be hard to find, but think again.
The location of the Statue of Liberty is somewhat of a mystery to some who wonders whether Lady Liberty resides in New York or New Jersey. Geographically speaking, it is actually closer to New Jersey, but thanks to an agreement between the two states signed in the 1800s, the definitive answer is New York.
More precisely, however, the statue is located on Liberty Island which is technically owned by the federal government. To be even more exact, and clear up any further confusion, the statue's latitude is 40.68913 and its longitude is -74.0446. If you can't find it now, well you may just have to skip it.

The only way to visit the Statue of Liberty is by ferry, and you can board one from one of two locations: either Battery Park in New York or Liberty Park in New Jersey. Although the Liberty Park route is just slightly longer, both routes are approximately two miles long and provide an enjoyable trip that stops off at both Liberty Island and Ellis Island and take approximately 20 minutes each one way.

The Battery Park Ferry and the Liberty Park Ferry are the only two routes to the actual statue but there's still another option if you simply want to see Lady Liberty without actually visiting Liberty Island. Located just south of Battery Park, the Staten Island ferry doesn't actually take you to Ellis Island but it does offer you a free view of the statue!

The Statue is also central to many other landmarks including Liberty State Park which is only about a half mile from Liberty Island.

If you have kids in tow, you may want to stop by the Liberty Science Center, an interactive science museum for kids located just over the New Jersey state line and a couple of miles from the Statue of Liberty.

Although only a few miles by ferry, if you're driving to Governor's island, it's a good twenty minute drive. Its main attraction, Governors Island National Monument, may be worth it though if you're a history or military buff.

If you're a golf enthusiast, you can take a short trip to the Liberty National Golf Course, reportedly one of the best in the nation featuring a complex and challenging course as well as beautiful views of Lady Liberty herself.

A trip to the Statue of Liberty is one that every American should take at least once in a lifetime. The experience is guaranteed to be awe-inspiring and memorable. It will also be a lot less stressful if you know your way around.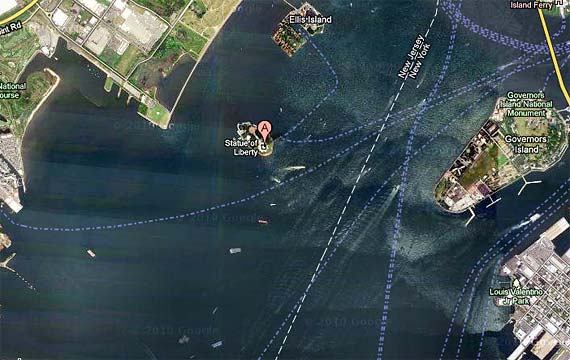 Statue of Liberty location courtesy Google Maps